Small Business Insurance and Commercial Insurance in Charlotte, NC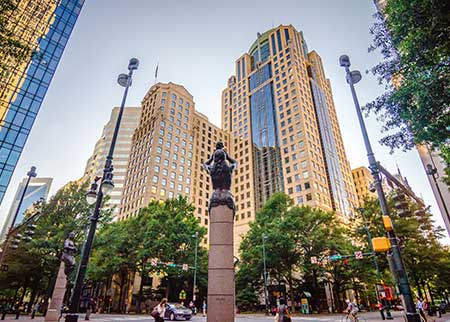 Starting a small business in Charlotte is not an easy task, just ask any business owner. And when you have a small business, you really need to make sure that you protect your business. It is your source of income, and you have no one to rely on except for yourself. So, having small business insurance will protect your income and your personal assets. To find out what small business insurance coverages you may need, contact your Craig & Preston Insurance Agency agent today to schedule a time to go over your business.
Business Insurance in Charlotte, NC
From the humble beginnings of your small business, you now have a thriving business that you are proud of. You may have a few employees, perhaps a company vehicle for different things, and plenty of equipment that you invested in to grow your business. But has your business insurance kept up with the growth in your business? With employees, you need to have workers' compensation insurance. With a vehicle, you need commercial auto insurance. And the equipment you will want to have insurance on, as well, in case of vandalism, damage, or other bad events. It is a good thing to periodically meet with your Craig & Preston Insurance Agency agent to review your business insurance coverages, discuss what has happened with your Charlotte business, and what changes, if any, might be needed in your coverages. Now, the business isn't just supporting your home, but with employees, you are supporting their families as well. It's important to help protect the business for everyone's sake.
Commercial Insurance in Charlotte, North Carolina
Your Charlotte business has continued to grow, and you now have dozens of employees, several vehicles, two different locations, and more. You had always hoped it might grow this large, but never really thought it might happen. Part of the reason that you got here is with the commercial insurance protection you had in place from Craig & Preston Insurance Agency. It protected you when an employee got into a small vehicle accident, and it protected you when that storm nearly wiped out your building. Commercial insurance helped to get you back on your feet and continue your business.
Nicknamed the "Queen City", like its county a few years earlier, Charlotte was named in honor of German princess Charlotte of Mecklenburg-Strelitz, who had become the Queen Consort of Great Britain and Ireland in 1761, seven years before the town's incorporation. Within decades of Thomas Polk's settling, the area grew to become the Town of Charlotte, incorporating in 1768. Though chartered as Charlotte, the name appears as a form of "Charlottesburgh" on many maps until around 1800.