Business Insurance and Commercial Insurance Including Workers Compensation Insurance and Small Businesses Insurance in Fort Mill, SC, Charlotte, Concord, Matthews, Gastonia, NC, and Surrounding Areas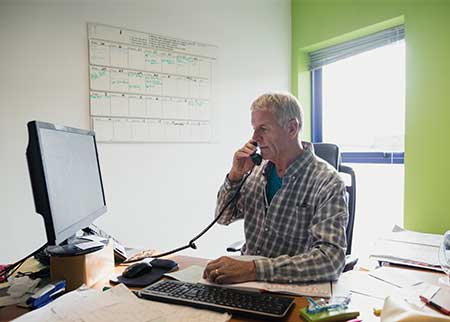 Solid Coverage for Your Business
Commercial Insurance from Craig & Preston
Every business owner has spent incredible amounts of time creating a specific brand or image that makes them unique. It's part of the key to developing a competitive edge. While many things set businesses apart, there are also many similarities. This includes the many risks they face. There are similar liability exposures, property loss potential, and other issues that are common among all types of businesses. There are also many variables in risk exposures. Even the most diligent business owner can't anticipate every possible risk, and it's impossible to predict all the possible contingencies.  But the professionals at Craig & Preston Insurance Agency can protect you, your business, your employees, family members, and financial future when the unforeseen occurs.
Our agents have experience in assessing commercial risks to suggest the best possible risk management solution. From liability protection to building property coverage, we customize a business insurance plan that delivers solid coverage against the many risks you face.

Coverage That Focuses On YOUR Business
The ever-changing face of today's businesses has resulted in a whole new world of liability exposures and risks. While insurance companies continue to develop new products to address these new exposures, no single carrier can meet every demand. Businesses throughout North Carolina continue to trust the professionals of Craig & Preston for targeted insurance protection that meets their needs today while being flexible enough to grow and evolve with their business.
Commercial Insurance: Independence Means Options
One insurance company cannot meet the needs of every business.  There are too many variables involved. As an Independent Insurance Agency, Craig & Preston works with many top-rated commercial insurance providers to meet the divergent needs of many, many businesses throughout multiple industries. Our specialized packages are tailored to address your individual property, liability, and casualty needs. We take a proactive approach in identifying factors that could increase the premiums you pay or the risks you face…and we offer consulting and risk management assistance to help protect your business and keep your rates in check.
We provide commercial insurance coverage for a wide variety of businesses, including HOA (Homeowners Association) and condominium insurance. Our Commercial Insurance options include:
Insurance options we offer include:
General Liability
Professional Liability
Worker's Compensation
Bonds
Errors & Omissions
Builder's Risk Insurance
Garage liability
Mechanic and Body Shop
Cabs and Limousines
Commercial Umbrella
Commercial Autos & Fleet
Group Life & Health
D & O
Self-Storage
Commercial Property
Business Owners Policy (BOP)
Apartment Building Owners
Contractors
Restaurants
EPLI
GET A QUOTE TO START SAVING TODAY
Our agents will match you with the best coverage and rates for your car, home, and business.